Vancouver, British Columbia–(Newsfile Corp. – August 9, 2023) –  Altamira Gold Corp. (TSXV: ALTA) (FSE: T6UP) (OTC PINK: EQTRF) ("Altamira" or the "Company") is pleased to provide an update on its ongoing exploration programme for copper and gold at the Santa Helena project in Mato Grosso State, Northern Brazil. This work is being conducted in parallel with ongoing exploration at the Company's main Cajueiro gold project.
Highlights:
Ground magnetic work has been completed at three further copper-in-soil anomalies at the Santa Helena project (Areas 2, 3 and 4), and has revealed the presence of coincident magnetic anomalies.
These coincident copper-in-soil and magnetic targets add to the excellent coincident anomaly already defined in Area 1 and have signatures that are considered to be consistent with inferred porphyry settings.
A drill programme is being designed to test these targets. Exploration continues in the south of the project area to follow-up widely spaced copper-in-soil anomalies.
Consultant geologist Darren Jones commented; "The presence of undrilled-tested copper-in-soil anomalism in this tropical weathered landscape, coincident with well-defined magnetic features, reminiscent of intrusive bodies and a local and regional structural setting permissive for porphyry stock emplacement are strong positives. Together with the presence of mineralized porphyry-like stockworks in limited surface exposure, trenching and initial drilling of what appears to have been the margins of one or more potentially copper-mineralized porphyry stocks, is, in my opinion, as good as it gets in terms of drill readiness for a potential cluster of porphyries on early-stage exploration plays in largely covered terrain."
CEO Mike Bennett commented; "These results have confirmed the coincidence of anomalous geochemical and geophysical responses at all three new areas surveyed using ground magnetics and add to the compelling target previously identified in Area 1. We now have an impressive inventory of "drill-ready" options to test for porphyry-style copper mineralization. The regional structural location, and widespread association with large-scale alteration features, consistent with porphyry-style intrusive systems are very encouraging at this stage of exploration. The design of a scout drilling programme is underway. We continue to advance our copper exploration activities in parallel with our main focus at the Maria Bonita gold discovery."
SANTA HELENA PROJECT
The Santa Helena project is located immediately adjacent to the paved BR-163 federal highway in the state of Mato Grosso and 60km SW of the Jaca porphyry copper deposit which was recently discovered by Anglo American plc (Figure 1).
Figure 1: Location of the Santa Helena, Apiacas and Cajueiro projects.
To view an enhanced version of this graphic, please visit:
https://images.newsfilecorp.com/files/4500/176600_75a4b813c413d8ed_001full.jpg
There is no history of copper production in the Santa Helena area and previous artisanal mining activity has focused on high-grade gold, hosted in vein structures.
The regional geology consists of 1806-1757Ma Teles-Pires intrusive rocks and overlying Colíder Formation volcanic rock (lavas and pyroclastic flows with inferred volcanic dome structures). The Teles Pires intrusives consist of alkali-feldspar granites and syenogranites and are interpreted to be the main host to porphyry-style intrusions in the Santa Helena area. Younger (ca.1400Ma) sedimentary cover of conglomerates and arenites formerly overlay this basement. Remnant outliers of this cover indicate enhanced potential for the preservation of porphyry alteration zones within the basement.
Figure 2: Selected core photos from scout drill holes for gold mineralization DD-ST-002, 010, 012 & 014 drilled in 2022 to test gold-vein target areas, showing syenogranite intrusive with chlorite-secondary biotite, sericite-muscovite & K-spar/hematite alteration ('red-rock'), cut by polyphase veining ± brecciation with quartz, calcite, epidote, hematite, magnetite, chlorite (± secondary biotite), k-spar ± pyrite-chalcopyrite. Note that none of these holes were drilled within the current copper targets.
To view an enhanced version of this graphic, please visit:
https://images.newsfilecorp.com/files/4500/176600_75a4b813c413d8ed_002full.jpg
In a similar manner to the Jaca porphyry district (60km NE), anomalous copper occurrences have associated peripheral gold occurrences, indicating a coeval origin. Scout drilling of some of these gold occurrences by Altamira, identified potential for copper porphyry style mineralization (see Figure 2 and Press Release dated April 12, 2023). Mapping and soil sampling, focused on the copper potential has now been supplemented by ground magnetic surveys.
Regional airborne magnetics data shows major structures trending NE-SW passing through the Santa Helena concessions and this trend is evident from the alignment of copper and gold soil anomalies (Figures 3 & 4). Outcrop is generally very poor in these areas, compounded by deep weathering, which renders trenching of limited value.
Figure 3: Regional magnetics (total magnetic intensity; TMI) showing major NE and ESE trends and possible regional structure linking Santa Helena area to known porphyry style mineralization at Jaca, 60km to the north-east.
To view an enhanced version of this graphic, please visit:
https://images.newsfilecorp.com/files/4500/176600_75a4b813c413d8ed_003full.jpg
Figure 4: Location of ground magnetic grids in relation to soil sampling (copper in colour) and prior drillholes for gold targets. Prior drill holes for gold are focussed on existing artisanal workings and gold-in-soil anomalies which are peripheral to the copper-in soil anomalies. Ground magnetic results for Area 1 were released on May 10, 2023.
To view an enhanced version of this graphic, please visit:
https://images.newsfilecorp.com/files/4500/176600_75a4b813c413d8ed_004full.jpg
Ground magnetic surveys have been completed over Areas 2, 3 and 4 using survey lines, oriented north-south, separated by 50m and with readings every second at walking pace (Figure 4). The data was quality controlled and analysed by consultant geophysicist Mat Cooper of Core Geophysics Western Australia. (see Press Release dated May 10, 2023 for results of Area 1 in which a compelling porphyry-style drill target has been defined)
Area 2 shows a coherent copper-in-soil anomaly, oriented NE-SW with a long axis dimension of 600m and a peak copper value of 170ppm. Prior drillholes to the north and northwest (Figure 5) were directed at quartz vein structures associated with garimpo workings. The ground magnetic data suggests that the copper anomaly is broadly coincident with two lozenge-shaped, and inferred fault-controlled, low magnetic responses. A pull apart" structural interpretation is illustrated in Figure 5. Within and adjacent to these extensional structures are smaller zones of higher magnetic responses, interpreted as possible intrusive centres, around which hydrothermal alteration effects have caused demagnetisation. The intersection of two sets of structural trends, one of which is the dominant NE-SW regional structure, is interpreted as a favourable setting for the emplacement of an intrusive (porphyry). Three separate scout drill targets are identified at this prospect (Figure 5).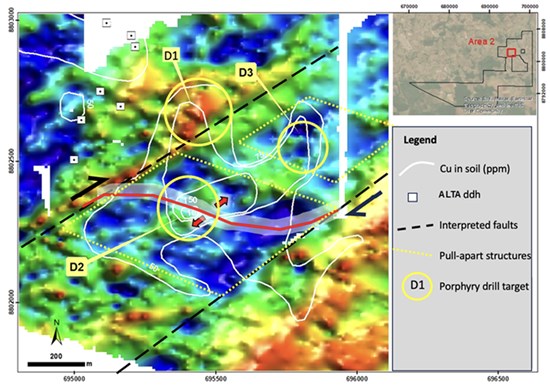 Figure 5: Area 2 ground magnetic Analytic Signal data (background colour) with gold-in-soil contoured in white in ppm Cu. Prior drill holes for gold are focused on existing artisanal gold workings (see press release April 12, 2023).
To view an enhanced version of this graphic, please visit:
https://images.newsfilecorp.com/files/4500/176600_75a4b813c413d8ed_005full.jpg
Areas 3 and 4 are both characterised by coincident copper-in-soil anomalies and magnetic anomalies, consistent with porphyry-style settings and dimensions. A drill programme is being planned for Areas 1-3 whilst further infill soil sampling will be conducted at Area 4 to finalise drill targeting.
Figure 6: Areas 3 and 4 ground magnetic Analytic Signal data (background colour) with copper-in-soil contoured in white in ppm Cu (Area 3) showing strong coincidence of copper with a magnetic low. Wide (1km spaced) soil lines in Area 4 show elevated copper in association with an oblate magnetic high. Infill soil sampling is planned to define drill targets for Area 4.
To view an enhanced version of this graphic, please visit:
https://images.newsfilecorp.com/files/4500/176600_75a4b813c413d8ed_007full.jpg
Altamira continues to progress the Santa Helena copper programme in parallel with on-going exploration at the main Cajueiro gold resource and recent discovery at Maria Bonita. Drill targeting for copper porphyry objectives is underway at all four ground magnetic grids outlined above.
Qualified Person
Guillermo Hughes, FAIG and M AusIMM., a consultant to the Company as well as a Qualified Person as defined by National Instrument 43-101, supervised the preparation of the technical information in this news release.
Neither the TSX Venture Exchange nor its Regulation Services Provider (as that term is defined in the policies of the TSX Venture Exchange) accepts responsibility for the adequacy or accuracy of this release.
About Altamira Gold Corp.
The Company is focused on the exploration and development of gold projects in central Brazil. The Company holds 6 projects comprising approximately 190,000 hectares, within the prolific Juruena gold belt which historically produced an estimated 7 to 10Moz of placer gold. The Company's advanced Cajueiro project has NI 43-101 resources of 5.66Mt @ 1.02 g/t gold for a total of 185,000 oz in the Indicated Resource category and 12.66Mt @ 1.26 g/t gold for a total of 515,000oz in the Inferred Resource category.
On Behalf of the Board of Directors,
ALTAMIRA GOLD CORP.
"Michael Bennett"
Michael Bennett
President & CEO
Tel: 604.676.5660
Toll-Free:1-833-606-6271
info@altamiragold.com
www.altamiragold.com
Forward-Looking Statements
Statements in this document which are not purely historical are forward-looking statements, including any statements regarding beliefs, plans, expectations, or intentions regarding the future. It is important to note that actual outcomes and the Company's actual results could differ materially from those in such forward-looking statements. Except as required by law, we do not undertake to update these forward-looking statements.
To view the source version of this press release, please visit https://www.newsfilecorp.com/release/176600